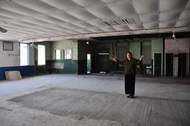 RED SPRINGS — Imagine a brick building on a small-town street, one with a loading dock that teems with men in heavy overcoats who retrieve frozen meat from refrigerated trucks and stack and hang it in insulated storage lockers.
Imagine that same building, cars and trucks passing by the large single-pane front windows as tired women shove clothing into washers and dryers, their hair falling down by their face in damp wisps as children's feet slap on the cool stone floor.
Now think of the tiled, thickly-insulated drop ceiling coming down to reveal high rafters. Envision a stage built where quarters were once sorted and pants creased. See dozens of chairs gathered around a musician for an intimate performance, children speaking via Internet with others their age who live across the globe, chefs cooking international food, and older folks drinking coffee and reminiscing about buying steaks or washing the week's laundry in that same space.
That picture is part of a big vision illustrated by Jumbo Arts International, a non-profit that wants to bring global culture and conversation to Red Springs.
"The idea is to make it a big, big thing, bigger than Robeson County," said Margie Labadie, a practicing artist, digital arts professor and the organization's president. "This is sort of the dream — to be able to change a region for the better."
Basking in the air-conditioning of her truck, outside the still-musty confines of the building on Vance Street, Labadie looks over Jumbo's sponsors, a list that includes well-known names and others whose homes lie across oceans. The sponsors, she says, prove that people believe in the potential for the space to become a creative business space.
"We're going to bring business to Red Springs," she said. "We're going to be working with restaurants, wineries… . And we're going to employ people. Some of the best entrepreneurs are artists, because they have to be."
Labadie and her team have plans to host international dinners and global holiday celebrations as well as be a resource to Red Springs students, who have a short walk to the building as soon as the school bell rings. She also wants to fill the gap between performance spaces like the Givens Performing Arts Center at The University of North Carolina at Pembroke, which can seat more than 1,000, and the Carolina Civic Center in Lumberton, which can hold a few hundred.
"People used to come to us all the time and say, 'Why don't we have a place where bands can play, or why don't we have a place for art?' For years and years we were getting those questions," she said. "The main thing is we want this to be for everyone."
For Labadie, who has a family member with autism and Down's syndrome, that also means a place where "people who aren't easy to deal with" — those with intellectual or developmental disabilities — can feel comfortable and have the tools they need to grow.
One of the biggest puzzle pieces of Jumbo's planned center, the building, fell into place unexpectedly when the owner called Labadie up and offered it as a gift, two weeks after the organization's 501-c-3 license was granted. Labadie and her husband, John, also an artist, were shocked. The two had looked at the building previously but could not afford it.
Now, their capital campaign can focus on the renovations needed to fill the gap.
"We have all the things that we want to do, and we obviously can't do them all at once," Labadie said. "We just want to get the doors open and get some programs started."
For information on Jumbo Arts International, visit
jumboartsinternational.org
or call 910-734-3351.
Abbi Overfelt works for Civitas Media as editor of The Laurinburg Exchange.