The Culture of Bluegrass Music in North Carolina:
My Life As An Accidental Bluegrass Musician
Two Workshops! September 18th at 2 PM
and September 19th at noon!

Gathering in old tobacco barns and general stores across the state, the culture of Bluegrass music and the old South still permeates our everyday lives. While many people associate Kentucky with Bluegrass Music, the fact is many of the pioneers of this indigenous American art form were North Carolina born and bred. In fact, when one considers the confluences of African, Scottish and English musical heritage, a strong case can be made that Bluegrass was, in fact, born here. And there is no one more fervent than the recently converted! Using musical examples (both recorded and performed live) and personal anecdotes of travels across North Carolina from his book, Bluegrass Is My Second Language, the author seeks to illuminate the joys of Bluegrass music to the uninitiated. BRING YOUR INSTRUMENTS AND LEARN HOW IT'S DONE WITH JOHN SANTA!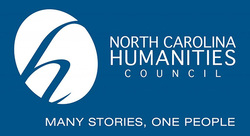 Jumbo Arts International is assisted in presenting these programs, which are FREE AND OPEN TO THE PUBLIC. This project is made possible by a grant from the North Carolina Humanities Council, a statewide nonprofit and affiliate of the National Endowment for the Humanities.