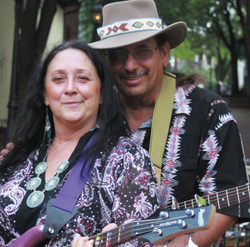 LUMBERTON —
A jumbo-sized jubilee of all things creative will be held on Saturday in downtown Lumberton.
Jumbo Arts International will offer an afternoon of music, poetry, crafts and dance inside the Osterneck Auditorium of the Robeson County Public Library.
"It's a different kind of experience," said Margie Labadie, president of Jumbo Arts International. "I have had people come up to me and tell me that the event is the most diverse thing they've been to. Something will be happening the whole time, the event is great for family."
The semiannual Jumbo Jam, from 1 to 5 p.m., is a free event that promotes art and creative expression.
Spirit Wing, a contemporary folk duo that specializes in American Indian music, will perform on Saturday. Labadie described Spirit Wing's music as "powerful but fun."
Other musicians performing during the event include guitarists Morris Cardenas and Danny Young. Returning to the Jumbo Jam stage are Ron Watson and David Manigo, a duo that focuses on piano jazz and swing music. The University of North Carolina at Pembroke's Jazz Combo 2, directed by Larry Arnold, will round out the musical menu with a dose of soul during its Jumbo Jam debut.
In addition to live music, the event will feature poetry and prose readings. Weslyn Chavis, a local author, is expected to read some of her short stories.
Interactive offerings include "Life's a Doodle," a group-drawing activity led by Burritt "Bucky" Benson III, and a performance from The Robeson Rockers, a local dance troupe that gives audience members a chance to cut a rug on-stage.
"From our standpoint, we're trying to make live performance the center piece. Writers who read aloud and get the audience involved in their work and musicians who play instruments are a big deal," Labadie said. "It's so important to us to support their live scene."
A number of Robeson County artists will display and sell their work on display during the event. Some of the artists participating in Jumbo Jam include Joy Atkinson McGugan, Jordan McGirt, Terry Durham and Alisha Locklear Monroe.
The program is sponsored in part by a grant from the North Carolina Arts Council. For information, visit jumboartsinternational.org or email jumboartsinternational@gmail.com.
Gabrielle Isaac can be reached at 910-816-1989 or on Twitter @news_gabbie.